Although our onsite activities remain suspended in response to COVID-19, we continue to meet and worship online.
Light the Shabbat candles with us every Friday at 7 pm.  Stay for Shabbat services the first and third Friday of the month.  Join Online
During more normal times, throughout the year our Temple Family joins together with a number of different celebrations and observances.
One of the things that I like about being Jewish is that Judaism moves across time and space. When I stand in prayer in my synagogue, I know that Jews across the world will (have been) be praying with words and melodies similar to mine, and that that has been the case for many hundreds of years and will hopefully continue for many hundreds more. That's a very powerful connection.
— Marilyn

For Sukkot we have a gathering in the Sukkah.  At Hanukkah we have a Latke Party, complete with latkes, goods to buy from our Gift Shop, a Crafts Faire with artisans from the congregation and surrounding communities, and special children's activities.
For Purim we have our Purim Carnival where we have lots of interactive games for kids of all ages, our raffle, a costume contest, baked goods and more.  On the second night of Pesach we have our communal Seder.  For Yom Ha-Shoah we have a very thoughtful and thought provoking service with readings of and remembrances of the Holocaust.  We also celebrate Tashlich as we prepare to "throw away our sins."  Please check the calendar for the dates and times of these events.
Shabbat and Services
Shabbat services are important at Temple Beth Hillel.  During normal times, services are held on the first and third Friday nights of the month.  The first one is a family friendly service preceded by a vegetarian community potluck at 6:30 followed by services at 7:30. The second service is a more adult-oriented service at 7:30. There is weekly Torah study on Saturday mornings.  (Please check the calendar for the latest information on times and location.)  There are also Saturday morning services for B'nai Mitzvot and periodically throughout the year.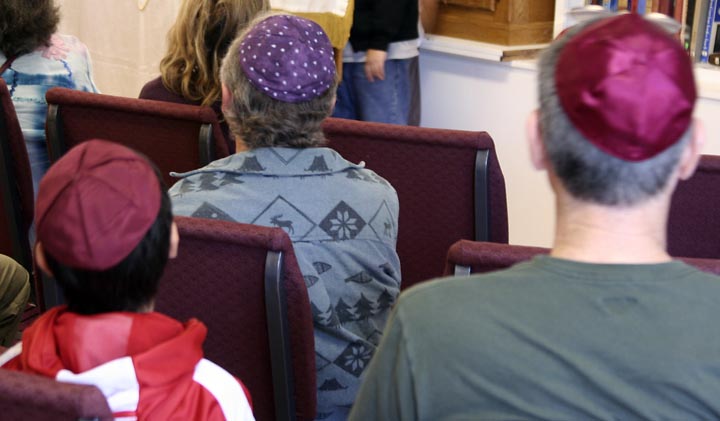 Religious school includes an interactive Tefillah service open to all, from small children to adults.
In addition to Shabbat services we have services throughout the year for all the major holidays including: Rosh Hashanah, Yom Kippur, Sukkot, Simchat Torah, Yom Ha-Shoah, Purim, Pesach, and Tu B'Shevat