Important note: Zoom requires an update.  Download the update
Learn how to join and participate by watching the brief video below.
During the Coronavirus crisis, TBH is moving many of its activities online.
We will be using Zoom, a video conferencing system to accomplish this.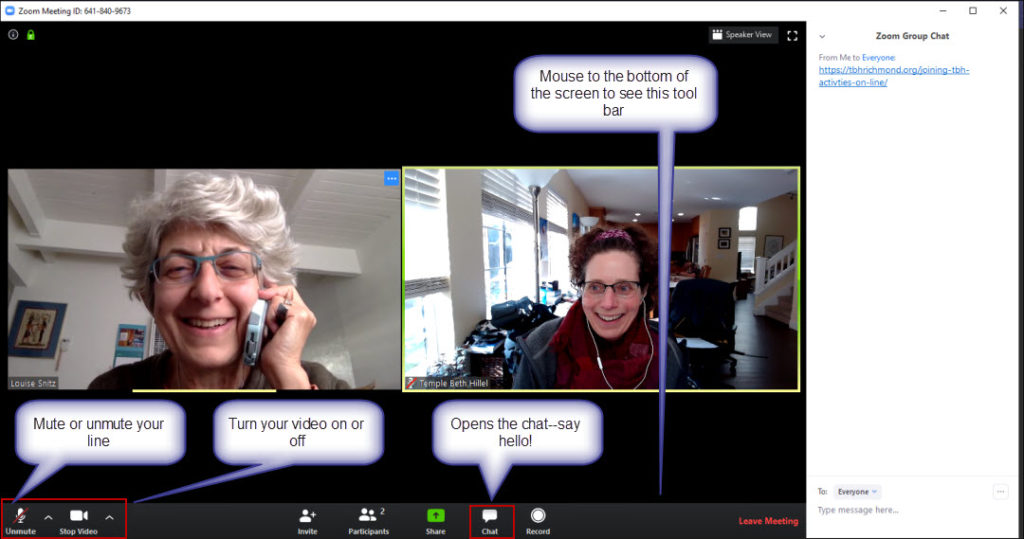 Zoom enables participants to:
See and hear everyone who joins

See anything the presenter shares (a screen, a document)

Chat with others on the call

Speak if you want to, and have everyone hear what you say

Share your webcam video if you want to, and have everyone see you
What do I need?
You can join either with your computer or your phone.
Computer Setup
Connection to the Internet

A way to listen: speakers or headphones

A webcam (optional, unless you want to be seen)

Download and install Zoom.
Phone
Ideally, connection to the Internet 

If you have a smartphone, download the Zoom application for your device from Google Play or the Apple App Store

You can also dial directly into the meeting
How do I join a service, class, or meeting?
On your computer or phone, click the invitation link.

If it is the first time you have joined a Zoom meeting, you will be asked to download the application.

The meeting will open in a different window.
Audio
When you join, you will be using your computer or your phone's audio and you'll be on mute.  You can take yourself off mute, but be careful you don't forget! If you are doing something noisy that isn't part of the meeting, you probably want to be muted.
Call in: If you like, you can call in instead.  Instructions on how to do so will be on the screen.
Note: Sometimes the audio might cut out, or the screen might appear to be frozen.  These problems occur when there is limited bandwidth, either on your side or the speaker.  Please be patient!
Video
It's nice to see people's faces!   You can enable your webcam if you like.
More Information
Need more information?  Check out these videos:
Joining a Zoom meeting is quick and easy! Discover the options for joining meetings based on your requirements and to ensure the best meeting experience possible.
Joining & Configuring Audio/Video
Learn the options for joining and configuring Zoom's audio and video settings.
Get a quick introduction to the basic meeting controls available on Zoom calls.