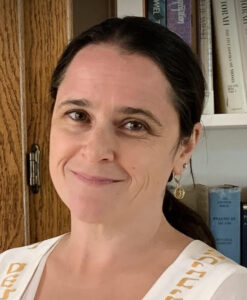 Hazzan Shayndel Adler received ordination as Cantor from the ALEPH Ordination Program, the Jewish Renewal seminary that revitalizes tradition with spirituality and socially progressive values. She is also trained as a Kol Zimra Hebrew Chant Leader and Kohenet: a Jewish embodied ritual officiant.  Shayndel facilitates healing as a teacher of 'Uncovering the Voice' a spiritual and therapeutic singing modality and she is also a certified holistic health practitioner.  Shayndel has been a professional educator for over twenty-five years and graduated from Humboldt State University with a Multiple Subjects Teaching Credential and B.A. in Liberal Studies/Elementary Education.
Temple Beth Hillel is my home. It is more than a physical place or building. It is a safe haven from the challenges of the everyday. It is home to my extended family and what brings us together – a sense of belonging, shared purpose & welcome like no other. —Larry
Shayndel's journey towards becoming a cantor began at age ten as a soloist in the children's choir at a synagogue in NJ which continued through Bat Mitzvah and Confirmation. Her childhood home was in the pine barren forests of New Jersey where she would sing Hebrew prayers in nature surrounded by the songs of creation. Shayndel moved to Tennessee and then Israel before relocating to Berkeley in 1997, where she became an early childhood educator and a Hebrew teacher. She earned her teaching degree in Arcata and taught at a religious school in Eureka. Shayndel then lived in Laguna Beach where she studied holistic healing modalities and the art of singing.  Shayndel served as a Jewish song leader and educator in Newport Beach before relocating to the Auburn area of the Sierra Nevada foothills in 2005. Since then, she has been a teacher, education consultant and singer at Jewish, public, private and Waldorf institutions in the greater Sacramento area.
Shayndel enrolled in the ALEPH seminary in 2011 and was ordained in January 2019. She has officiated as a high holiday cantor in various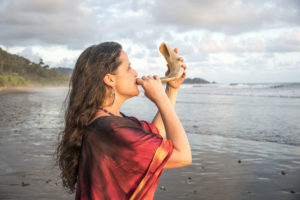 synagogues in the Virgin Islands, NJ and CA over the past nine years and has worked at Congregation Bet Haverim in Davis.  She currently lives in Davis with her husband and three children and leads prayer services, singing classes and healing sessions.
Cantor Shayndel joined the Temple Beth Hillel community in September 2019. She brings spirituality, enthusiasm, compassion, joy and a variety of instruments into the prayer experience. Shayndel's leadership style is engaging, heart-opening and accessible.
"May my reverence for life be a force of love in co-creating makom, sacred place, where all people feel safe.  May my presence and creative offerings be infused with Spirit for the sake of healing and transformation. May Shechinah's Voice stream through my heart with clarity to bring more Light and Goodness into our world."