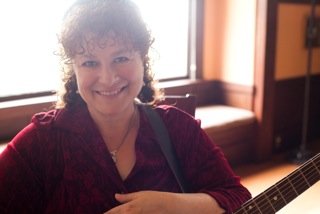 Temple Beth Hillel in Richmond welcomes Fran Burgess as its new Cantor. A classically trained  opera singer and accomplished musician,  Fran received her ordination and Masters of Sacred Music from the Academy for Jewish Religion California (AJRCA) in 2012. She succeeds Cantor Howard Cohen who passed away in June 2013. Cantor Fran joins Rabbi Dean Kertesz leading religious services and co-leading the family Tefillah service on Sunday mornings. Bringing a wealth of musical talent to all aspects of the congregation's religious life, her new duties will include teaching an adult education class on chanting Torah and teaching religious school students the musical component to prayer. She looks ahead to creating a youth choir. "Music and prayer have a special bond in Jewish worship. Music opens a gateway to the soul. I have the privilege and pleasure of sharing our chain of musical tradition at Temple Beth Hillel."
Temple Beth Hillel is my home. It is more than a physical place or building. It is a safe haven from the challenges of the everyday. It is home to my extended family and what brings us together – a sense of belonging, shared purpose & welcome like no other. —Larry
Fran's love of music began at a very early age. Raised in a musical family, by age six, she was the third member of a recorder trio with her mother and father. She later studied the flute, the oboe, and then voice at the Boston Conservatory of Music, Santa Cecilia Conservatory of Music in Rome, and the Manhattan School of Music. Moving in an entirely new direction, she earned a nursing degree and followed up with a study of orthopedic massage. However, Fran never forgot her love of music–studying voice and singing with the San Francisco Symphony Chorus and the San Francisco Opera's professional chorus for ten seasons.
Her path to become a Cantor began when she and her husband, Sandy Zirulnik, and children, Martin and Alexandra, became members of Temple Sinai in Oakland. Martin began his bar mitzvah studies while Fran became more involved with synagogue life. She joined the adult choir and began leading services as a soloist. Wanting to learn to pray like a Jew–not just sing a good service–led her to attend the Academy of Jewish Religion California where she was ordained after five years of study.
Now, Fran Burgess' cantorial voice becomes an integral part of Temple Beth Hillel's congregational life as she assumes her new position with Rabbi Dean Kertesz.